A House is not a home until the Pictures are hung!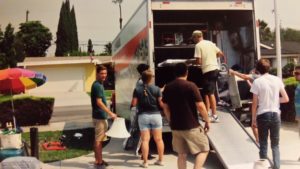 Since the beginning of 2014 we have been on an active quest to find a new place to live. Our landlords graciously allowed us to stay living at 316 W. Glenwood until Clayton finished high school. Many friends and families began praying with us and looking on our behalf for a new place to go. Thank you. Some of you came to help pack and purge more than once this spring. Thank you. Part of my team at work began helping me move stuff to the new place once the rent was paid. Thank you. On July 29th the Mohlers woke up to a group of friends, coworkers and family who showed up and loved us by picking up our furniture, our boxes of books and dishes and our clothing and put on trucks and in their cars and drove with us to a new address. Over 50 people from church came (including Summer Servants, co-workers and Encouragement Inc. friends). You fed us and carried us and generously lavished us with your presence, your muscles and your creativity. Thank you. And then, more of you showed up in the weeks that followed and have helped us unpack and decorate and clean. Thank you. As if that was not enough, fellow staff at EvFree Fullerton showered us with gift cards and love notes. Thank you. We are humbled and blessed. And full of gratitude..
For the past few months my arms and legs have been covered in bruises and scratches. My muscles ache and I am exhausted. We moved and even though it was only 6 miles away, it still took the same amount of work and the same level of stress that a move from one state to another took! It also took the same number of boxes and rolls of tape. And I said the same things I said the last few times I moved including that I can't believe how much stuff we have accumulated and that I hope that I can purge more and keep less!  But this time was more difficult than previous moves. This was a move without Jim and to a place that would have no memories of him.
We have moved.  Long stressful months of searching for a place I could afford on my income, many sad nights of packing up remnants of Jim's "treasures" that we have been able to ignore while being comforted by their familiarity and presence, and the neighborhood we have loved are now part of our history. We have had some of these emotions before as we have said goodbye to other houses and neighborhoods and seasons of life. There will be new adventures and memories in the new house and there will be another chapter closed with similar emotions when we inevitably move again one day.
Somehow this move felt different.  It was harder than before. It was in this house that we settled back into California living and raised 2 teenagers. It was in this house that we discovered that Jim had cancer and where Jesus Himself came into the family room while we sang praises 3 days before Jim's 55th birthday and carried our beloved husband and father to heaven as we reluctantly said our goodbyes. It was in this house that we have grown closer, made mistakes, offered forgiveness, and made new memories and traditions. We have yelled and screamed, laughed and played, cried and grieved, worshipped and loved.
As I reflect on the process of moving and on the places I have called home I am struck by the reminders that this event has meant. We all long for home and the idea that it connotes. Some call a house a home, and others are home where ever they lay their heads. I have been both. For me, a house is a structure and to build one required technical knowledge, materials and money. It is a place to keep one's stuff and protect us from the weather and bad guys. It is real estate. You can live in a house that doesn't feel like a home.  I am, however, blessed to have lived in more than one house over my lifetime that have also been homes. A home is a warm and welcoming place where you feel you belong. It is a refuge that provides a sense of sanctuary, peace and comfort. It is the place is where your story begins, where you are unconditionally accepted. A home means family and love. It has pieces of who you are including those you have created and nurtured.  It is full of memories and traditions – some happy, some sad. To me, it is more an emotional state than a physical place. By example, whenever we have been on vacation and have spent the day out sightseeing and playing we have come "home" to our tent or hotel room, our "home away from home".
Life is full of houses and homes. And one day we will really be home. The longing for the life I want for myself and those I love is yet to come. The true sanctuary and wholeness will one day be realized. I am reminded that we as Christians have lives that are displaced. We are exiles, longing for home. I am a pilgrim and all my "stuff", my heritage and the people I travel with in this life are part of the journey rather than the destination. This is not my home. Until the day that I will see Jesus, I will journey in hope, packing and unpacking my "tent". My true citizenship is in heaven and Jesus has gone to prepare a PLACE. That is where I will truly be home.